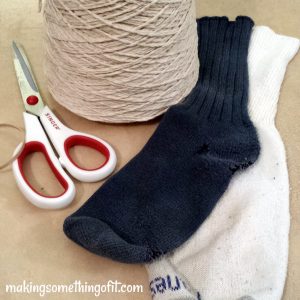 My quest for balance and my need for organization intersected this week, when I looked at my ever-growing stash of obtainium and realized I've got to use up more of this stuff . . . but only if I make things that leave my house.
I created some calm amid the chaos by loading my car with materials I'm using at schools next week – more found-object creations for the Arts Center's Artist in Residence program. Then I identified my biggest space hog: textiles waiting to be upcycled. Fabric and yarn are nearly impossible for me to discard, since they're both pretty and loaded with potential. And, as long as my boys keep growing, old clothing multiplies like Tribbles* every time the seasons change. So, I spent an evening searching online for programs and projects that need things made with these materials and settled on the idea of making things for our county's Humane Society.
I found several websites that talked about kennel comforters or cage comforters, and the need for soft toys. The dogs and cats can take these things with them when they're adopted, so they have something with a familiar scent to help ease their transition. But I never thought about the added benefit of how the comforters could increase the odds of adoption. It makes sense – pets look more approachable, lying on a colorful, handmade blanket, instead of crouched in shredded newspaper.
Although our county's Humane Society doesn't have an official cage or comforter program (several cities do – Google yours), the volunteer coordinator enthusiastically welcomed my offer to make and donate things, and encouraged me to visit, so I could adapt my ideas to their set up. I'm hoping this can be something my younger son and I can do together – delivering our donations and volunteering to do things like help socialize the dogs and cats. The hardest part will be not bringing every one of them home!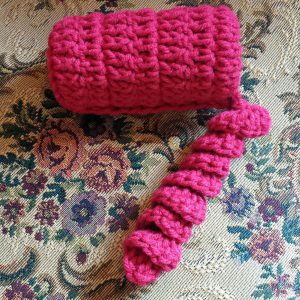 I'll use my scrap yarn to crochet comforters and cat toys, like the one pictured here. It's an empty toilet paper roll, with a crocheted piece (about 20 stitches across, depending on the stitch you choose) cinched closed on each end, plus a curly tail. I found the pattern here, but left off the bell, figuring there's enough noise already in a room full of animals.
But the quickest and easiest things I've made so far are braided dog toys. Old socks, t-shirt yarn, flannel pants – so many things work well for this project. It's my new favorite way to use up remnants, because the less matchy-matchy the materials, the prettier the toys turn out.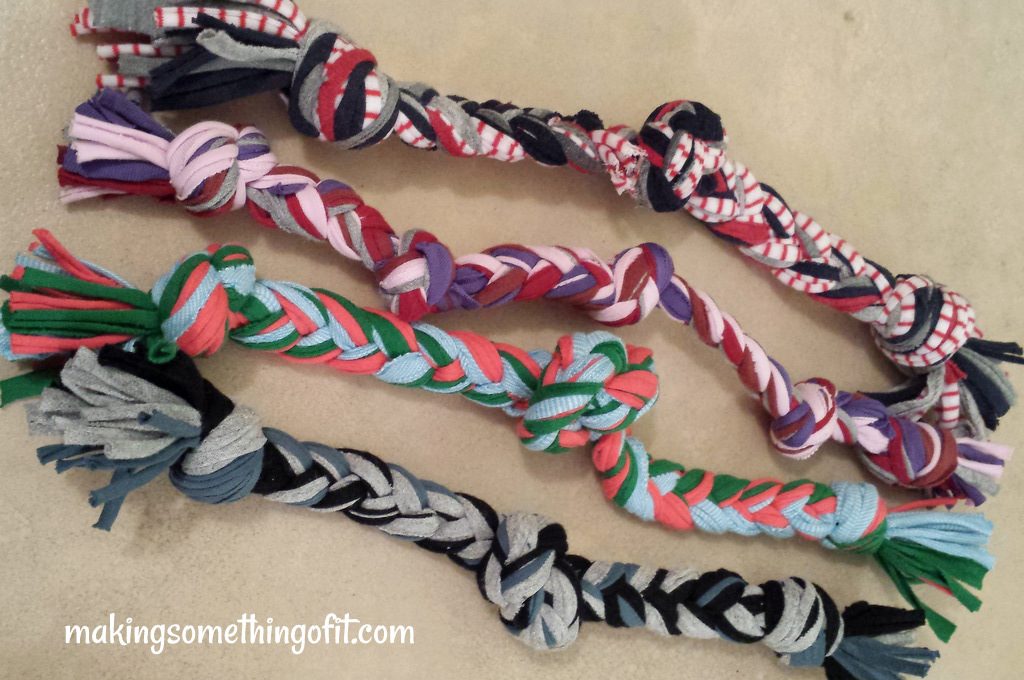 If you have a pet rescue program you'd like to promote, a favorite pattern for a pet toy or comforter, or tips from your own experience donating to pet shelters, please share!  I can't envision a day when I won't have plenty of materials (coupled with a big, mushy heart) for these kinds of projects.
* Tribbles – a fictional, alien species in the Star Trek universe, known for reproducing incredibly fast, inspiring the expression "multiplying like Tribbles."