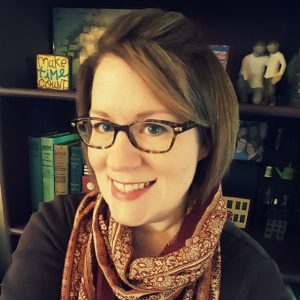 I am many things – mostly a maker.
I've made a life, a home, and a family with my husband, Mick, who made this site for me so I could share what I make with others. I've studied both theatre and theology, spoken in front of concert audiences and congregations, and have worked as a professional organizer for just about everything, from a hall closet to a national event.
My life and this blog are about finding the potential in everything around me – from discarded items to untapped parts of myself – there is nothing I love to do more than to make something of it.
I live in Louisville, Kentucky, with my husband, Mick Bradley, our two sons (ages 12 and 15), our two dogs (a mutt with a mysterious past and the hairiest Siberian Husky. Ever.), surrounded by an ever-growing supply of obtainium.
In the summer you can find me leading children's programs at Yew Dell Botanical Gardens in Crestwood, Kentucky, and running camps for young upcyclers at the Oldham County Schools Arts Center. Throughout the school year I am a substitute teacher in Oldham County Schools and teach more arts classes at the Arts Center, plus I manage school Facebook pages, the Kentucky PTA's monthly e-newsletter, and serve on the Special Education Committee for the District 13 PTA.
I am available for retreats, workshops, speaking engagements and more, and welcome the chance to make something with or for you! Click here to find where and what I'm teaching or contact me by filling in the form below.