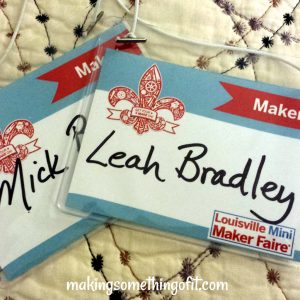 We did it. We made it to the Maker Faire and lived to tell the tale. (If you'd seen us twenty-four hours prior to the event, you'd know why this is such a huge accomplishment.) The day was warm, but not miserable. The event had a slow start, but we were grateful for the time to tweak our set-up and get our bearings. We came home exhausted, but not the least bit cranky. Success.
I thought I'd be more obsessed with which of our items were most popular or how much we sold by the end of the day, but I was too distracted by the presence of other makers. Within the first hour, my new friends started calling me "tent mother,"  as I introduced myself to each person in our tent, shared event information we got from a friend on the planning committee, and made sure everyone knew I was stocked with the essentials: sunscreen, small bills, and Excedrin. It didn't take long to learn that good neighbors make the day go by so much more quickly.
Truth be told, we made more connections than sales, but I'm not complaining. The best part was getting to see people's reactions to what we make. Pictures on a website are okay, but so much of what we make needs to be seen or worn or held to be appreciated. Plus, I used our space as much to educate as to sell anything, placing information next to each display, giving the back story on what components were used, where they came from, and why. I actually liked hearing people say, "Oh, I have some of this at home. I never thought of doing that to it."
Honestly, I think I talked a number of people out of buying something, because I couldn't resist explaining how they could do it themselves. Inspiring someone to use what they have or encouraging them to try something new is the whole point behind "making something of it."
Still, for those folks I met on Saturday and told, "If you change your mind, you can always find these things on my website," check out the Marketplace. I'm adding the items we brought back from the faire and would be happy to see them find a new home, with you or someone else. This "making something of it" that I do isn't a one-time event for me, it's a daily practice. So, please don't wait for the next faire to see what I'm making or stop by and say hi, now that you know where to find me!