Are you the kind of person who can easily see shapes or objects in the clouds? I play a similar game when I see obtainium – stuff that has been cast aside and deemed useless, until it's obtained by someone who can see the potential in it.
Last week, I found myself staring at a few wood flooring samples, envisioning all kinds of uses for these things.
The larger ones would be fun to use as luggage tags and there's no way anyone else would have a giant faux wood-grain luggage tag, so there would be zero chance of someone picking up my suitcase by mistake. Score!
The smaller ones would work as an unusual business card (glue or paint my info on the back) or I could Mod Podge a photo on it and hang it from my key ring. You know what else I see? Door hangers! Granted the opening isn't big enough for this to slip over a door handle, but adding a piece of twine would fix that.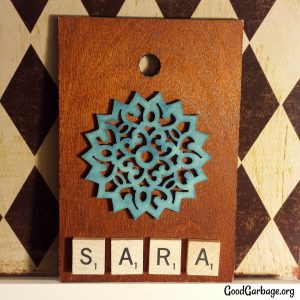 I grabbed some Scrabble tiles and chalked a wooden embellishment, then affixed everything with glue dots (a glue gun would've worked, too) and, voila!
A door hanger for Sara.
Wouldn't these be cute hanging in each child's cubby at school?
The project is simple enough a child could make her/his own hanger. If you don't have Scrabble tiles or other pre-made letters, give the kids things they can cut out and glue onto the wood.
Speaking of Scrabble tiles, old game pieces are fun embellishments for all kinds of crafts, so be sure to raid your game boxes before getting rid of them or watch yard sales for deals. You'll find lots of games being sold for $1 or less because they're missing a few pieces – but you won't mind, because crafting with Monopoly property cards is so much more fun than playing!
Now it's your turn: what would you make of these floor samples?
Note: This post was first published at ReduxLou.blogspot.com, a blog inspired by and in support of Good Garbage, Louisville's one and only creative reuse center, where you'll find all the components for this project and a gazillion more. I'm a regular contributor to ReduxLou and a huge fan of Good Garbage!