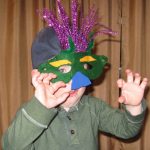 I know I've shared before about my annual guilt-fest, also known as our-youngest-son's-birthday.
Born just 12 days after Christmas, it's hella-hard to make his special day feel all that special to him. He's usually partied-out, fighting the post-holiday crankies, occasionally snowed-in, and indecisive about what we can do to make him feel the way he thinks he's supposed to feel on his birthday.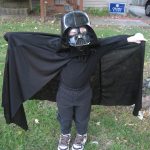 When he was born, I vowed to establish a tradition of celebrating his half birthday – July 6 – but, by mid-summer, his birthday ennui has subsided and he's content with fireworks and red-white-and-blue desserts. We've proposed choosing a random date in the spring, but, for whatever reason, that never appeals to him.
Suddenly, it's January 6, again, and the brainstorming of guilt-induced resolutions resumes.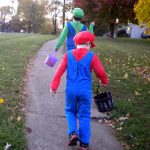 But not this year. Last month, out of a desire to help our youngest son nurture some new friendships and take another crack at a non-January celebration, I proposed we host a Halloween party. Ding! Ding! Ding! Finally, the right answer! Our youngest has always loved this holiday. Now that he's 10, this is probably his last year to trick-or-treat, so I'd been pondering other ways he could celebrate as he got older. A Halloween party seems to be the answer to all of this.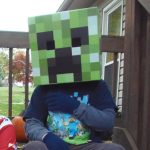 This is a great example of looking at what I have – rather than creating something new – to solve a problem. I do it all the time with craft projects and quick fixes, but I find I still have to shift gears in my head, when applying this approach to the big picture stuff. Each of us has what we need to be happy, we just need to change how we see things in order to appreciate that fact.
What makes you happy? What time of year is your favorite? Why not choose your celebration? Better yet, why not celebrate every day!