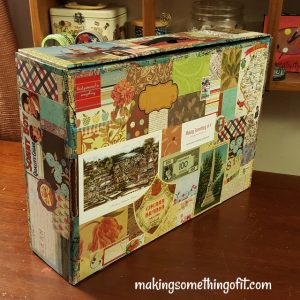 Last night, I exchanged emails with a middle school art teacher who was searching for a supply of small cardboard jewelry boxes. Later this week, she's teaching a lesson on Joseph Cornell and students will use these smaller boxes to create sections within a larger box, and then fill those sections with bits of obtainium and ephemera.
Because she knows I always have enough obtainium and ephemera to share, I told her to send me her wish list and, along with the boxes (of which I have 95) I would send some bits and baubles her students could use.
I swear, there is little on this earth I enjoy more than curating a collection of materials for an art teacher. It's like being a personal shopper – I get the fun of going through all the options and thinking as far outside the box as I like, all while making someone's life easier. I box it up, I drop it off, and my work here is done.
Since most of the time I'm just delivering materials to a school's front office, the exchange is usually anticlimactic. I hand the office manager a bag or box or basket – all very serviceable, but not very inspiring – and the teacher picks it up at her/his convenience. Boring. What I want to see is a sort of Mary-Poppins-moment, with someone reaching into a gorgeous, old carpet bag and pulling out one curiosity after another, (coupled with an appropriate amount of ooohing and aaaahing). Alas, that just isn't going to happen with a bag, a box, or a basket.
So, I made my own traveling salesman-ish suitcase!
I've had this sturdy cardboard suitcase-like box for years. I can't even recall where I got it (my younger sister, maybe?), but I know from the label that a pair of boots came in it. It's spent most of its life in the top of my closet – sometimes holding Christmas ornaments, other times gift bags – but no more.
Now it's been collaged and Mod Podged and loaded with supplies, and sent on its first road trip.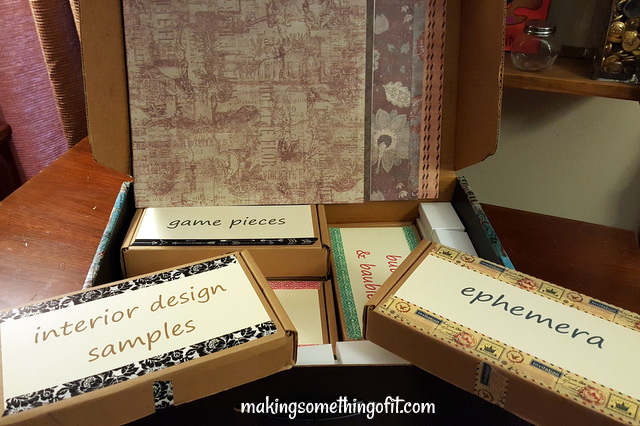 I had a brief pang of insecurity, when I dropped it off for my teacher friend today. But the look on the office manager's face – curiosity, mixed with amusement, and maybe just a dash of envy – made my day!