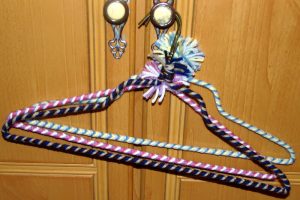 If I choose what to work on this month based on what supplies I have in the greatest volume, you'll see a lot of things made with yarn. A. Lot.
The challenge: every skein or ball or wad of yarn in my collection is left over from a previous project – meaning I have no great quantity of any one color. So, while I sort through patterns and Pinterest for more fun things to do with my remnants, I'm taking a stroll down memory lane and making yarn-covered hangers.
This might be one of the first yarn-based crafts my mother taught me – or a close second to my learning how to crochet, developing my right-handed technique from my left-handed mother. Then came plastic canvas – oh, the tissue box covers I made! – and hooked rugs were in there somewhere. I can estimate my age for these projects because I can see our home – we were still living in Atlanta at the time – and I vividly recall using red, white, and blue yarn (probably left over from something we made in the summer of 1976), putting me around 9 or 10 years old.
What began as "let's see what I remember" turned into three consecutive nights of hanger-covering. My hands immediately fell into the familiar rhythm of yarn over, yarn under, pull tight; yarn over, yarn under, pull tight. I even remembered how mom taught me to measure the yarn for the project – the length of my arm-span x 3 (and yes, I did discover that my arms have grown between age 9 and now).
Such an easy way to make good use of a few yards of yarn and such cheap therapy!