I've told this story so many times, I forget who has and hasn't heard it. So, forgive me if I'm repeating myself.
Several years ago, when I was newly married and comparing my life with the lives of my friends – some of whom were buying their first home with money that had been set aside for them by their parents or grandparents – I teased my mother, saying "How long do I have to wait for my inheritance?" She replied, "I already gave it to you. I gave you potential."
I love that response.
August is my birth month. In honor of that, I'm declaring this my "month of potential" – celebrating the potential I was given by making something every day. Ambitious? Perhaps, so I'll include the disclaimer that "making something" doesn't mean completing something and completing something may mean just putting the finishing touches on a project I started long ago. But one way or another, potential will be realized!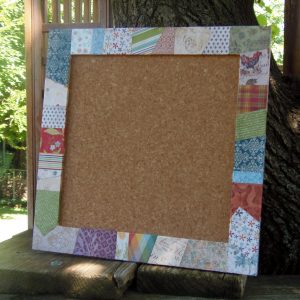 Here's my first endeavor: covering a plain wooden frame in scraps of some of my favorite patterned paper and putting cork in the middle, making it a bulletin board.
P.S. Thank you, Marmee and Dad, for the gift of potential. No matter how many birthdays I have under my belt, you've blessed me with the ability to always make something more of my life. That's the best inheritance ever.