Do you recall what you were doing one year ago this week? I'd just attended my first march – which, it turns out, was really more of a stand and listen to good speakers, but inspiring nonetheless. I was writing postcards and calling elected officials. My husband was educating our boys about activism and freedom of speech. Together, we attended the inaugural meeting of Indivisible Oldham County and met dozens of Democrats in our very Republican county.
Driving home from that first meeting, my husband looked at me and said, "I liked going to this with you. Maybe this can be our thing?"
After years of drifting along in our separate spheres, we were both aware how much we needed something we could do together. I loved that he was excited about this work and excited to do it alongside me. 2017 may have started off a bit rough, but that moment made me hopeful, almost optimistic, about what was ahead for us.
What a difference a year makes. Turns out, activism is hard work, so is marriage, and my husband wasn't really passionate about either.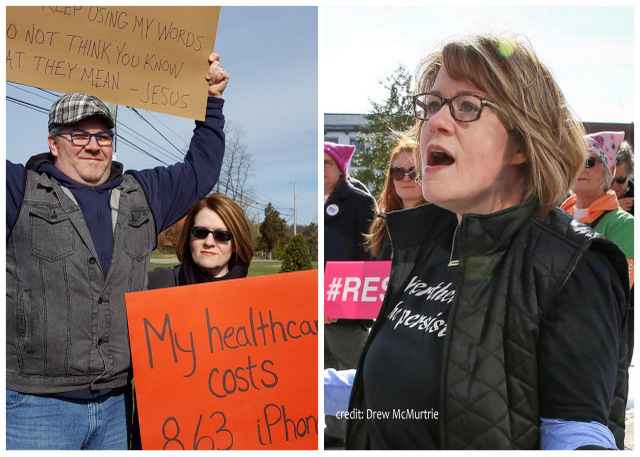 You know what I see when I look at these photos? On the left is 2017, and I'm barely visible – dwarfed by my husband and hidden behind my sign. On the right is 2018, and what I'm advocating for isn't pre-written, my picture is not posed, and there is not an ounce of tension in my face. The moment was captured by photographer Drew McMurtrie, during the Women's March in LaGrange, Kentucky. It was the first time I told anyone, other than my family, that I'd filed to run for magistrate of District 7 in Oldham County.
Yes, I'm running in this year's election and I've declared 2018 "the year I stop running from something and start running for something."
I'm Leah Bradley and I approve this message.