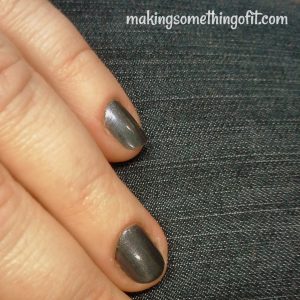 I had a few minutes to kill yesterday, while shopping at Walgreens, and decided to wander by the clearance shelf, where discontinued or last of their kind items go to die. Tucked amid countless bottles of miracle creams and age-defying lotions was this lone bottle of nail polish I found myself immediately attracted to. It was a Rimmel product and the color was named Hard Metal.
(side note: I would love to have a job coming up with names for nail polish colors!)
I couldn't even pick the bottle up before my internal editor declared it "too young" for me.
"Forty-five year old mothers don't wear non-traditional colors, Leah," she said.
The thing is, I didn't wear this stuff when I was in my teens . . . or 20s or 30s. At those ages, my editor told me "Your nails aren't pretty enough." Or, "You'll draw attention to yourself." The timing wasn't right. I wasn't hip enough to pull it off. The list of reasons increased, while my selection of appropriate nail polish colors didn't.
But, my internal editor forgot that I've added a new voice to my crazy choir and am encouraging her to sing out every chance she gets (because her voice is so beautiful!). This new voice said, very matter-of-factly, that if I'm a 45-year old mother, wearing Hard Metal nail polish, then couldn't one say Hard Metal is a color 45-year old mothers wear? (I told you, she's good!)
Plus, it was on clearance for $2.