Have you ever heard the joke about the man stranded on his rooftop after a horrible flood? Soon, a rescue worker paddles by in a canoe and offers him a ride to safety. The man says, "No thank you. God will save me."
Hours later, his neighbor comes by in a boat and invites him to climb aboard. But again the man says, "No, thank you. God will save me."
An entire day passes before the man sees another human being. Then he hears a helicopter and a voice calls down, "Grab onto our rope and we'll take you to safety!" But the man replies, "No, thank you. God will save me."
Eventually, the waters rise and the man is swept away and drowns.
When the man reaches heaven, he shakes his fist at God and says, "Why didn't you save me?!"
God replies, "I sent a canoe, a boat and a helicopter. What more did you want me to do?"
All summer long, I've arranged and rearranged the mountains of materials in my house, while holding onto the dream that I could find another space (outside my home) to store it. When I finally accepted that my materials will be staying at home with me, my husband helped me rearrange the furniture in our house so I had one wall free to fill with shelving. My obsession with this project caused an avalanche of shifting furniture in almost every room in our home. For days, it looked like we'd just moved in and, when all was said and done, I couldn't find (or afford) the shelving I needed.
Meanwhile, a friend of mine was messaging me every couple of days, saying, "I've got some goodies for you!" This is the friend who gave me my first big load of materials when I began teaching "The Art of Upcycling," so I knew she had more than just a bag of buttons or some old denim to donate. I dragged my feet about responding to her. Where would I put it?
We played phone tag for a while, until I couldn't put her off any longer. She's so generous and I'm so tired of thinking of my glass as too full. Today, I made the drive to her side of the county and she sent four student volunteers back and forth to my car with armloads of goodies. Then, just as we were gathering the last load, she said, "Oh, wait. Could you do something with these?"
Wire shelving.
Just look at these beauties.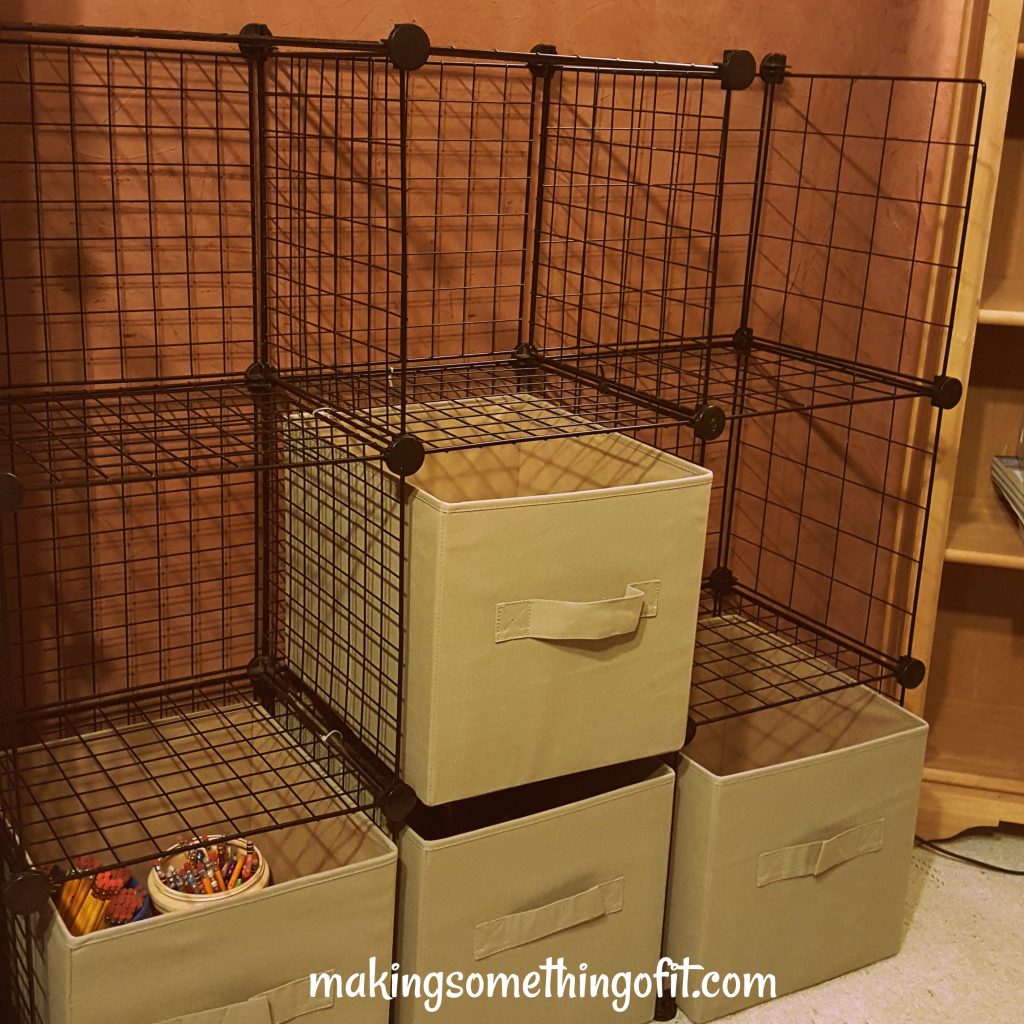 Our youngest son helped me construct nine of them tonight and I bet we have enough parts to make another nine of them tomorrow.
(sigh) Why didn't she mention she was sent to rescue me? I'd have grabbed her rope the first time she asked!