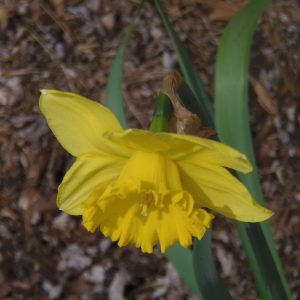 The trees in our yard remain barren. Our flower beds boast nothing but dead leaves. And over the last week we've had snow flurries more days than not. But one brave little daffodil ignored all of this and bloomed anyway.
The day after our older son took this picture, this flower was surrounded by slushy snow and beaten all to hell by the strong winds that accompanied it. But its appearance, however brief, was enough to remind me that things will start to grow … eventually. So, I fought the temptation to table my one thing, every day project, and found something I could either plant or harvest every day this week.
Day 1 – Dug out all of the about-to-expire canned foods, hidden in the far corners of our pantry, and used them in meals this week, including one final batch of homemade chili before the weather turns warmer.
Day 2 – Scored a paid voice-over gig, to record the audio version of the newest Horizons Bible study (published by Presbyterian Women); recording begins next week.
Day 3 – Networked with friends of friends and continued to send my resume anywhere and everywhere with an opening even remotely related to my job skills.
Day 4 – Accepted two invitations to provide pulpit supply this spring – one in southern Indiana (late April); one in southern Illinois (late May)
Day 5 – Rolled our spare change and came up with $30 that I divided evenly, depositing $15 in each of our boys' savings accounts.
Day 6 – Completed the first phase of a paid editing project.
Day 7 – Let the motivator in me relax, so that the maker in me could come out and play!
And how about you? What did you plant or harvest this week?