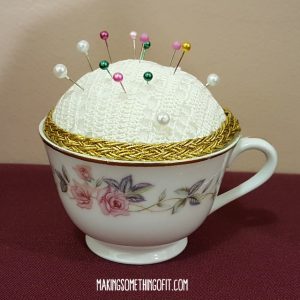 It's taken me almost two weeks to process and unpack all that I got to do and see and be during the three-day Making Something of It event in Mt. Vernon, Illinois. It was worth every moment of planning, prepping and packing – and, oh, you should have seen what I packed! I bet I crammed a month's worth of materials into my trunk and backseat. (It's a good thing I left all the Bradley men at home!)
Granted, I almost always pack more than I need, fearing I might run out of supplies. But a bigger inspiration for my over-packing was my plan for how I'd present the materials.
For first-time upcyclers, I want to immediately dispel any preconceived notions that we're working with "trash" – pretty, clean, and copious supplies, laid out and ready to be used, generally takes care of that. For long-time crafters, I want them to see the success of the program I'm building – the glut of gorgeous materials I have to share – and then watch as their eyes dart from my samples to my supplies, and stoke those first embers of creativity, asking, "What would you make out of this?"
That's really all it takes to get the ball rolling.
This slideshow requires JavaScript.
The organizers at the church estimate we had more than sixty participants. I did my best to send each person home with extra materials, so their adventures in creative reuse didn't have to end when our workshop did (and so re-packing everything might be easier). But, church members also gifted me with new materials (leftover from their rummage sale or things individuals saved specifically for me), including an old steamer trunk, which, alas, I had to leave behind until we can arrange its passage to Louisville. It's huge. And heavy. And wonderful!
When all was said and done, the projects were plentiful and the overall event was memorable, but it was the people – crafting alongside one another, offering ideas or inspiration, or just keeping each other company – that made this weekend a success, prompting person after person to ask, "When can we do this again?"