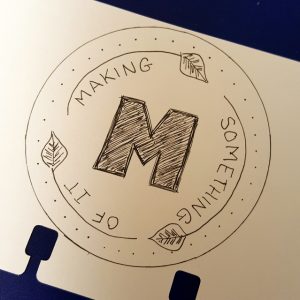 Just a heads-up: makingsomethingofit.com is getting some tweaks and tune-ups this summer! Some of the changes may appear as if they're new posts, but aren't, or temporarily move content to new locations on the website. Why? Well, partly because of the way my site is set up and partly because I'm trying to do a lot of the reworking myself – which means a period of trial and error, learning as I go.
My husband built this site for me in 2012 and over the last four years has patiently trained and encouraged me to manage it on my own. Now he's hard at work, creating my new logo (pictured, left: my rough sketch of what I want) and handling the behind-the-scenes coding to create my new look.
Thanks in advance for putting up with the little glitches and inconveniences. I hope you'll stick with me this summer and enjoy watching the new site unfold.