I had great plans for waking up today and being ridiculously productive. Instead, I found myself starting this, working a little on that, but not finishing anything. Like warming up the griddle, only to discover I'm out of Bisquick . . . and I sooooo wanted pancakes today! Rather than wallow, I decided to let other people's projects and ideas inspire me. There really is comfort in knowing someone somewhere got something accomplished today.
Today's inspiration:

Almost any post by Katy Wolk-Stanley inspires me. Her "Zero Waste" challenge this week is really sticking with me. Our home/family is miles from "zero waste," but I'm inspired to think of more ways we can reduce, reuse, and recycle.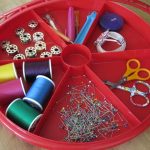 Even the simplest looking project on Pinterest usually requires my clicking on the website it came from, for full instructions or a tutorial. Before I know it, I'm skimming other posts on that site. Three hours later, I'm hard pressed to tell you how I ended up looking at new ways to use conch shells, but excited about all the new websites I bookmarked! Here's the pin/project that pulled me in today: new ways to use divided food containers, on a site called Sew Many Ways.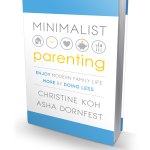 My favorite podcast, Manic Mommies, had an interview with Christine Koh, author of Minimalist Parenting. Their conversation was sprinkled with names of all the websites they either created, write for, or like, one of which is Parent Hacks – brilliant and brief daily posts about things I can do to simplify my life with kids. Love. It.
Okay, now it's your turn: what websites do you visit for inspiration?