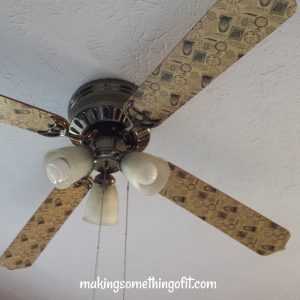 Cold weather has a way of inspiring tiny tweaks to our home. It's a maker's version of cabin fever, I suppose. I can't do much – nothing that requires open windows or working on the back porch – but that just ups the ante.
Last fall, my husband painted our kitchen cabinets and, while considering whether to carry the color over to the trim and pantry door, his eyes landed on our ceiling fan. Next thing I know, the blades are off and sporting a temporary shade of chalk paint, which neither of us liked. They're just cheap, faux wood, so I wasn't all that concerned about the trial and error, but the longer they went unfinished, the farther down our to do list they went.
More than a month came and went, then my husband brought home some vintage-looking, steampunk-ish, brown paper for another project. Alas, it was the wrong size for what he envisioned, but it was quite literally just enough to cover those darn fan blades!
A couple coats of Mod Podge, some precision trimming with an Exacto knife, and a good chunk of time spent looking for the hardware (which we both knew we'd put someplace safe) and we are now the proud owners of a funky new ceiling fan.
Granted, it's not the kind of project guests in our home will notice right away – perhaps not ever – but it adds that little something extra, that makes me smile each time I see it.