I just never know where I'll find inspiration for my next project and I kind of like the not-knowing part, because I enjoy the surprise!
A couple of weeks ago, I was sitting across from a receptionist in a small business and noticed an old wooden door, propped up in the corner. Feeling more extroverted than usual, I said, "Do you use Pinterest? That door would be so fun to repurpose!" That's all the encouragement she needed to show me her latest project – pens decorated with fake flowers, so they looked like a small bouquet in a vase on her desk. We talked about our love of pretty things that also serve a purpose and she walked me through how these were made.
When it was time for me to leave, she gave me a pretty daisy/pen to take home. The gift was a lovely gesture, but the immediate connection made during a conversation about upcycling was what I loved. I came home so inspired by the exchange and spent the rest of my day reflecting on how many kindred spirits I probably encounter, without ever realizing it. I decided then and there to make flower pens and give them away, hopefully inspiring similar exchanges between other kindred spirits crossing paths in unlikely places.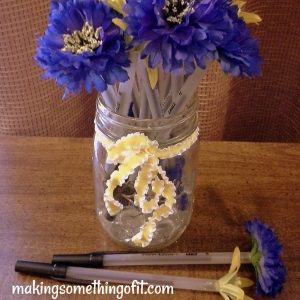 I dug through my stash of office/school supplies (free items I've scored when using coupons during back-to-school sales) and found oodles of pens. Now, I've seen these flower pens before – at creative stores like Archivers – but, in those cases, the flower was always attached with floral tape, which can sometimes get sticky and definitely adds bulk to the writing tool. Plus, that project requires that one has or buys floral tape. But, my new friend explained how she popped the little cap off the bottom of the pen, then put a short stemmed flower in the pen pipe, using hot glue to secure it. So the flower is flush with the pen (a look I really like).
Word of advice: Bic pens have tips that are next to impossible to remove, without chewing up the pen. I found PaperMate pens much more agreeable, with tops that pop right off, no muss, no fuss.
Next thing I knew, I had enough flower pens to use for end-of-year teacher gifts. I filled small planters and jars I've collected over the years with more supplies from my stash, then added the pretty flower pens to dress them up. I gave an entire jar of flower pens as a gift to the office staff at our elementary school (made in our school colors, blue and yellow). Such an easy and fun project! I smiled the entire time I worked on it, thinking about the exchange that inspired it and the conversations that (hopefully) happen between people who use what I made.