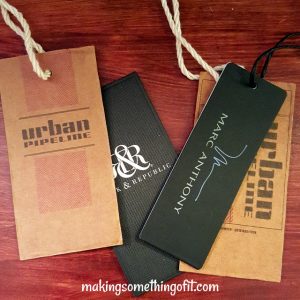 Have you ever noticed how well made and sturdy some price tags are? Actually, now that I think of it (and look through the pile of tags I've collected), all the tags I'm impressed with are from men's clothing (which probably says something about the quality of clothing I buy for myself … but I digress).
The Rock & Republic and Marc Anthony tags, in particular, are made from some high grade composite and won't bend, unless you're trying. Even the Urban Pipeline tags – really just sturdy cardboard – are worth keeping, if only for the heavy string they hang from.
Can you picture these covered in festive paper or images from greeting cards (like the upcycled gift tags I've made in years past)? Don't worry if you can't. I'll try this project soon and be sure to share pictures of what I make.
In the meantime, save those tags!