I know not everyone who visits this site is within driving distance of Oldham County, Kentucky (if only), but I also know that if you take the time to read my ramblings about reuse, then you'd likely enjoy knowing more about what I'm teaching at the Arts Center right now.
Last week, we resumed Maker Mondays (after a brief hiatus at the end of summer / beginning of school). It's a weekly "open house" of sorts, where makers of all ages can visit the Creative Reuse Center and make whatever they want, as much as they want, for a flat fee of $5 (which covers the cost of adhesives and such). Over the summer, these evenings were an inexpensive way kids could get some of what school offers (practicing social skills, access to art supplies, problem solving and critical thinking). This fall I'm hoping Maker Mondays can be a creative outlet for kids who don't have the time or money to sign up for the 10-week classes offered at the Arts Center, and that more students will use it for school projects.
For example, our younger son (6th grade) had to create a 3-D model demonstrating a part of a book he read for Language Arts. His book was about ghosts, so he wanted to create a model of a bedroom, where a ghost was wreaking havoc, moving objects around to scare the person living there.
He found a lot of what he needed from the trinkets and treasures that were donated last week.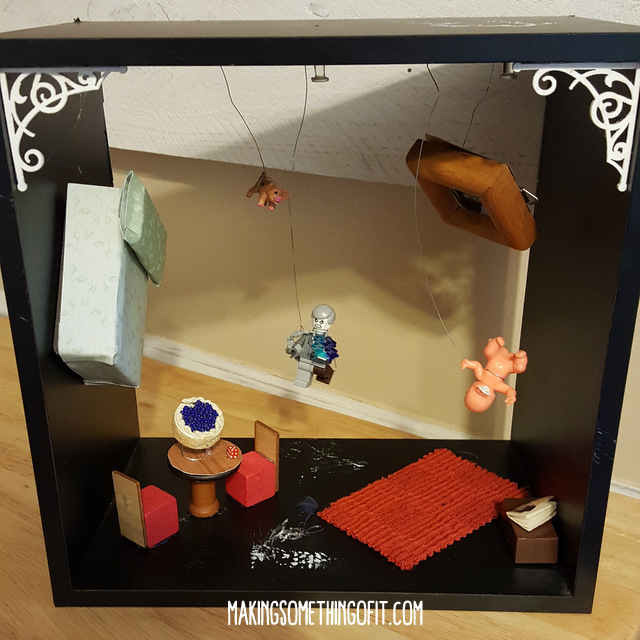 He was able to create the rest using materials I regularly have on hand – like fabric and wall paper samples, wooden spools and blocks.
I wonder and worry about kids assigned these creative projects, but without access to the kind of obtainium they need to be truly creative. Or parents who find themselves running to Wal-Mart once a month and spending $20 or $30 on materials for a project that will be left in the bottom of a locker or eventually thrown away.
Honestly, I can't think of anyone who couldn't get something out of Maker Mondays – either crafty and creative or purely practical.
So, I'll see you tomorrow night!