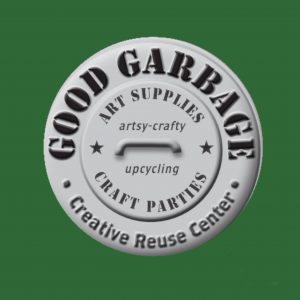 July began as a quiet month for me, at least vocationally speaking, so I dipped my toe in the waters of my avocations and, at mid-month, find I am waist-deep in possible paths for my free time.
Thanks to a forwarded email from a friend, I discovered Good Garbage, a creative reuse center in Louisville that offers almost anything you'd need for all those upcycling projects you see on Pinterest. But it's so much more than a new source for craft supplies. Donated odds and ends, factory seconds, recycled and repurposed items that might otherwise be sent to a landfill are now available for educators, workshop leaders, upcyclers and the like, all in an effort to reduce waste and educate children and adults on how to preserve the environment. The owner is warm and gregarious, with a good head for business and the heart of a maker. I'm enjoying getting to know her and discovering ways I can support her endeavors.
My exploration of Good Garbage led me to learn about creative reuse centers in major cities all over the United States. Check this directory and see if perhaps one is within driving distance of you. If there is, by all means support it! Fair warning: when you visit the directory, it's easy to get lost in all the wonderful links to the resources and people that make up this community of creative reusers. It was this kind of link-surfing that led me to start daydreaming about becoming a Master Re-user. Yes, that's a real thing! And it's more than a title, it's an actual credential in the reuse community (and might be the one thing that could tempt me into furthering my education).
From upcycling and reuse it's a quick hop to sharing and Shareable is the online hub for news, action, and all things related to what's called the sharing transformation – the idea that some of the world's biggest concerns can be solved by collaboration. The Shareable website has a growing list of locations in its sharing cities network (cities that actively support a wide variety of opportunities for sharing). Knowing that Louisville has a Time Bank, broad access to recycling, and an active upcycling community, I kept waiting to see our city join that list. (Insert the passage of a large span of time here.) Then I saw a note on Facebook from one of Shareable's staff persons, asking for a volunteer to set up Louisville's sharing cities page. Again, I watched and waited for someone active in the sharing community to step up. (Insert theme to "Jeopardy" here.)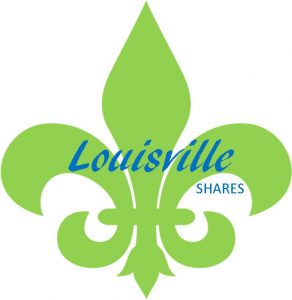 Throughout all this watching and waiting I was bombarded by my usual inner dialogue, where I told myself all the reasons I wasn't the "right person" to do this. Eventually, the simple fact that I was willing and able outweighed any lack of connections or history or gravitas I thought was necessary to be the official voice behind something city-wide. So, I birthed Louisville Shares and gave it a Gmail address, a twitter account, a Facebook page, and a completed application to become a sharing city, registered with Shareable.
Now I'm ready to get back to work.