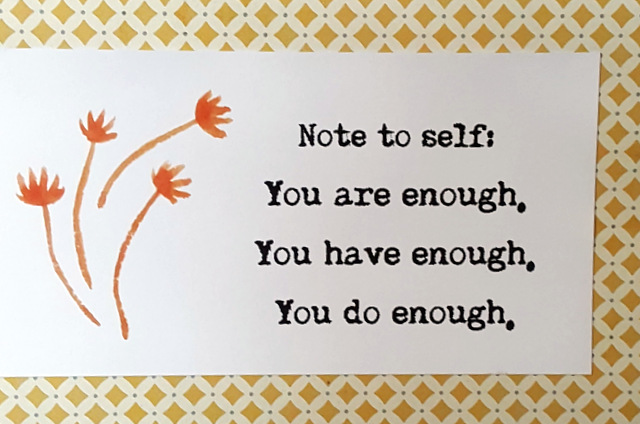 I don't remember much from my two years of high school Spanish, but I clearly recall the words and the voice that began every practice cassette: "Escucha y repite" (listen and repeat). I learned about classical music that way – listening to certain songs over and over until I could discern different styles and movements. I learned to perform an Irish accent by listening to a tape of an Irish woman reading numbers in sequential order (1, 2, 3, 4, 5, 6). Something about the way she said "four" got me there every time.
It's been a while since I've had to absorb new information this way. The last time I did this was when my oldest son was about three years old and started receiving help for his language delays. His speech therapist suggested I repeat the phrase "my son has autism" over and over, until I could say it without crying. I remember thinking, "Yeah, okay, sure." I took his diagnosis seriously, but didn't think just hearing or saying the words would really bother me. But, I was curious (or bored), so one day I tried it.
I was a mess.
Words are powerful and the most important ones can be just plain hard to say. The first time you say "I love you." Challenging someone in authority. Being honest, when your honesty will hurt someone's feelings. Declaring something you just don't want to accept is true.
My husband left me. Your dad isn't coming back. He wants a divorce.
Today marks two months since he left. I still struggle to say the words. I'd much rather watch for signs that he misses me or has changed his mind. Don't worry, I know that the signs, if you can call them that, are just mirages – something I want so badly, I make them materialize. They fade rather quickly and then I repeat even less desirable phrases – You're such an idiot. He does not love you anymore. He probably never loved you. I listen and repeat them until the pain of his absence is replaced with shame for being so weak.
Now, before anyone worries about the effect this inner monologue has my self esteem, let me show you this.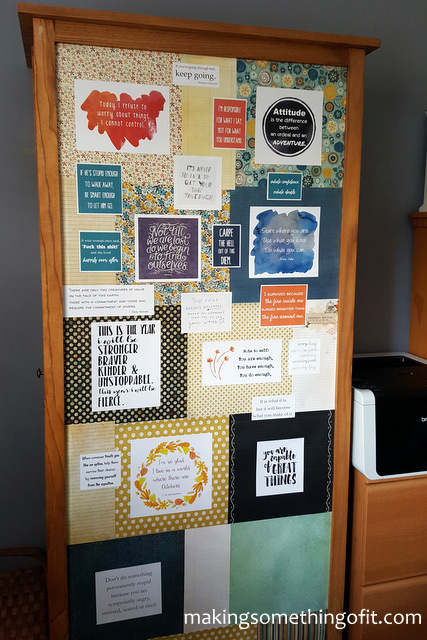 First, a little background: This cabinet is glass on all four sides and filled with my husband's favorite things and collectibles. After our children were born, this was relegated to the attic, due to lack of space and my husband's prediction that one of our boys would end up breaking the glass and injuring himself. Without the cabinet, most of his favorite things got boxed up and stored as well. Then, last summer I made the grand gesture of rearranging all of our furniture – because it's a domino effect when you try to add a large piece of furniture in a 1,000 square foot house – and made room for his cabinet in the space across from our bed, so he could see his favorite things every day.
Now I'm the one left looking at it, first thing every morning. I thought briefly about covering it with a sheet, but wasn't fond of having my husband's metaphorical ghost in our bedroom. So, in a moment of Oprah-like inspiration, I decided to cover it with scrapbook paper and words of encouragement. Some are phrases I've always loved, others I found on Pinterest (just search: words to live by).
This slideshow requires JavaScript.
I've also started using bits of inspiration or briefly-phrased goals as my log-in and password information. It's really a brilliant form of conditioning and a way to keep your goals in front of you (literally). For example, youshouldbewalking or readabook – pretty obvious what those are suggesting. Just think of how many times you have to type your passwords – that's free therapy, my friends!
So, I read my wall of encouragement, I type my positive passwords, I have my soundtrack of upbeat songs, I walk our dogs, take my vitamins, and spend time with friends. I'm starting a new job, exploring new interests, and oversharing here, as often as I can muster the words. Surely it'll start getting easier.