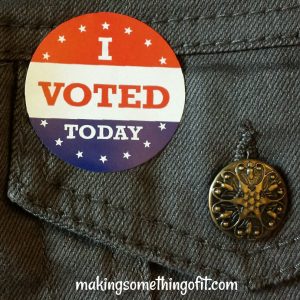 Painful life lesson last week. We have new/different homeowners insurance and got a letter from the provider, pointing out that we have a tree limb hanging precariously over/near our roof and some roof tiles that are buckling and in need of repair.
The insurance company informed us that both of these issues need to be addressed by the end of this year, if we plan to keep our insurance. The tree limb is easy enough (nervous Nellies) and, since our roof is only three years old, we can solve that with just a phone call and an appointment for some maintenance by the company that did the work (hoping it might even be covered by our warranty).
Just one problem: the roofing company we used three years ago no longer exists.
I distinctly remember feeling good about the company we chose, was pleased with their work, and felt secure in the investment we made in our home. What I've learned is we made our decisions based on our fear of the problem – a new roof is a big and expensive undertaking. The representative from the roofing company said, "Let me handle this," and we did. His company had the Better Business Bureau's seal of approval on it's ad. He dealt with our insurance company and he arranged for his company to cover half of our deductible, taking all the fear and hard work out of the equation.
The lure of "let me handle this" is strong. It's behind almost every aspect of my work as a professional organizer. Many of my clients are people who let a certain area of their house get out of control and now they're beyond overwhelmed or they can't deal with the emotional weight of helping their aging parent downsize to a smaller space or nursing home. For someone with money to spare, why not let someone else handle this? Or, if you're like us, people without money to spare, having someone else make the impossible suddenly possible is too tempting to question.
In the wake of the mid-term elections, I'm pondering how "let me handle this" plays into some of my bigger choices in life. Once every two years, I become quite animated, encouraging everyone I know to vote and make their voice heard on the issues that are important to them. But, in between elections, I am content to let someone else handle it. I follow stories of activists and am grateful for their hard work on my behalf. I shake my head (and often my fist) at politicians who don't keep their promises and leave us choking on the status quo. I behave as if I don't have enough money to expect a better political "roof" over my community's head and let our politicians handle things (or not, which is often the problem).
Thirty-five races in the county where I live were uncontested. Apparently we were all hoping someone else would "handle it" and, thus, we get to spend the next two years keeping an eye on stray tree branches and watching for leaks in our ceiling.