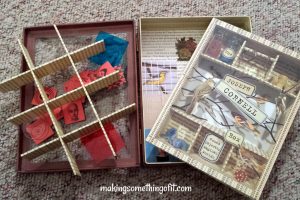 I'm happy to report that my experience as Artist in Residence for the Oldham County Schools Arts Center has exceeded all of my expectations. The projects are diverse – building a cardboard city at one school, creating self-portraits out of found objects at another. The crowd-sourcing of materials is challenging, but everything (to date) has been found or donated (or rescued from my attic), and not a dollar spent (except for paint and adhesives). Best of all, the exchange of ideas and information has me learning as much as I'm teaching.
My favorite lesson so far (and one that will be hard to beat): my introduction to Joseph Cornell.
Until now, my knowledge of upcycling has been limited to modern day references – after all, the term has only been in use for 20 years or so. But there are a number of artists and techniques that can be considered the ancestors or inspiration for what we now know as upcycling. Folk art is a great example. Think about the Amish quilt, born of salvaged fabric.
Joseph Cornell was an assemblage artist, born in 1903 and his work celebrated throughout the mid 1900s. He had no formal training and considered himself a collector, searching secondhand stores for souvenirs, memorabilia, and all kinds of ephemera, then displaying them in boxes as "visual poems."
There's something so familiar about his art. Personally, it reminds me of all the blank books I've filled over the years with ticket stubs, favorite quotes, pictures from magazines. I resonate with what others describe as his gift for (and I'm paraphrasing here) "using things we can see to show us things we can't see – dreams, memories, imagination." Plus, I read that he called himself a maker (another word it's tempting to think is new to our generation), because he valued the self-taught art of making something new from something pre-existing. He viewed creativity as "the collision and recombination of ideas." (If there's a better definition of creative reuse, I'd love to hear it.)
I think we all have a "Joseph Cornell box" somewhere in our home. It may be on your mantle or the top of a dresser. Maybe you have a curio cabinet or hutch. Scrapbooks. A jewelry box. A shoe box under your bed.
But if you don't, or if you want to try displaying your collection differently, there's actually a "kit" you can buy (pictured above) with a book and a box and enough guidance/inspiration to get you started. I would love to see what you make!