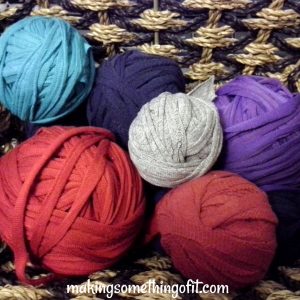 After trying my hand at crocheting coasters with T-shirt yarn, I've been culling my rag pile for more jersey or jersey-like fabric. On evenings when I don't have the energy for a project with lots of moving parts, I've found I can scratch my itch to make something by cutting up a T-shirt while binge-watching Luther on Netflix. I've got a good start on a small stash of homemade T-shirt yarn I can use when I'm ready – for coasters, place mats, and rugs.
Some evenings I think about what my foremothers probably did with their rags and scraps, and imagine they worked harder at repairing or reusing their clothes before tossing them in the rag pile. I do my best not to waste a single fiber – saving any buttons, keeping sleeves and collars (that aren't easily trimmed for yarn) as small rags, even keeping hems and other well-sewn sections for other projects. Then, whatever can't be upcycled, which isn't much, gets added to my compost pile.
Each year, the average American throws away 68 pounds of clothing and textiles. If you're not up for making your own T-shirt yarn and your clothes are too far gone to donate, don't be an "average American" – consider the options in this article on Recyclebank.com or find another way to make something of what you'd otherwise throw away.