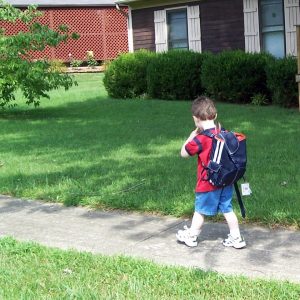 The first time we sent a child off to school was August of 2005. Our oldest son was just three years old. Yes, that's him in the picture – so tiny and huggable. Today he started 6th grade and is almost two inches taller than I am (of course, still huggable) and our youngest began 3rd grade. This is their first time being in different schools and, because of their age span, they won't be in the same school again until one is a freshman and the other a senior in high school.
Today our boys left for their first day of school without the usual "waiting for the bus, wearing their backpacks" picture. That's a huge first for me. I love those pictures. But today I didn't want to cuss and cajole a fake smile out of each of them, begging them to pose just a little longer, while I wrestled with our stupid all-too-complicated camera. For the first time, I chose a pleasant, laid back goodbye over a forced, picture-worthy moment (dare I suggest I've mellowed?).
This month marks the end of the first year for this blog/site. Like the start of a new school year, I remember having lots of goals – like perfect attendance (but a post every day is crazy hard!) and staying on top of my homework assignments (yeah, there are more than a few posts with trains of thought that stalled for lack of fuel). But my grades were good enough that I'm still here (thanks and welcome to the steady stream of folks who keep finding my blog via Pinterest!)
Just wanted you to know I've got my backpack on and my lunch packed for tomorrow, ready for another year of making something of whatever I'm given (and, believe me, last year will be a tough act to follow). So, who's ready for seconds?